TG: dirk pls
TG: you just hijacked an answer about GRAMMAR
TG: arent you like
TG: sensually into that shit
TT: Perhaps, but I'm also "sensually" into embarrassing you.
TT: And, I will state now to the origin of this question, buy one Stride, get one free.
TG: oh my god you huge assdick
TG: instead of preying on other people like a giant creep why dont you just suck yourself
TT: Because that would be terribly rude when the offer is right in front of my face, Dave.
TG: did you just fucking scoff
TG: dont scoff at me
TG: hiss
TG: …
TG: shit
((bonus: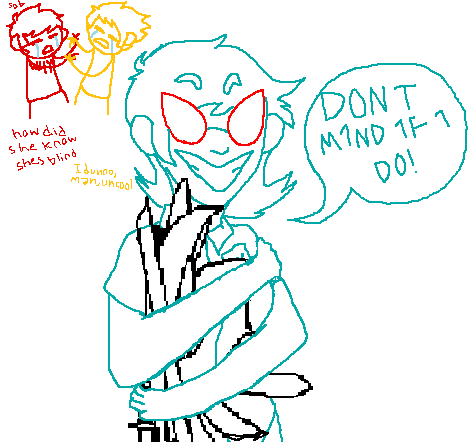 OOC
and with that
the m!a is finally done like i said it would be two weeks ago
back to my old habit of not answering anything for months
TT: I told you to say medicine and water.
TG: fuck your shit
TG: without some goddamn SWORDS wed be total zombie chow
TG: and dude food is like the same thing as water
TT: Um.
TT: No Dave.
TT: It actually isn't.
TG: swords and food there you have it everybody
OOC
WOW ITS BEEN SO LONG IM SO SORRY
im really just lazy like literally that is the only reason i have not been answering things
due to my laziness i am OFFICIALLY closing the askbox now, and i mean really this time.
not that you guys were really asking many things anyway, but, hey, just to be sure.
TT: Little banged up, but aren't we all?
TG: right as rain
TG: the rain made up of the boiling blood of my enemies that physically and mentally scars you when it cascades over your flesh
TG: and you seeth out of anger and hiss in pain and collapse on the ground in a fucking dramatic ass soap opera
TG: that is really some frickin sci-fi movie jazz
TG: the blood rain was actually poisonous
TG: youve been fucking poisoned and bitten in the ass
TG: and youre probably going to turn into some hideous demon beast
TG: ready to rip out the jugulars of any unsuspecting cowards
TG: boiling melty pointy teeth tearing straight through your neck with one fell swoop
TG: all because of my goddamned attitude
TG: hella fuckin RIGHT
TG: AS
TG: RAIN, MOTHERFUCKER
TT: (He's actually pretty pissed off too, in case you couldn't spot that already.)
TT: So I finally got this thing to officially work. Hopefully I can document this fucking apocalypse thing and not die trying.
TT: Oh, and I found my glasses. Sharp, 'm I right?
TT: (Also, in case you couldn't tell, Dave's a fucking idiot.)
TG: SWOOOORDS
TG: AAAH
((mun severely promises that ill get around to answering (and re-answering this one) to all of the non-prompt asks after the two days are up! terribly sorry!))